Remote Working and Your Operating Model: This Could Be the Biggest Decision You'll Make All Year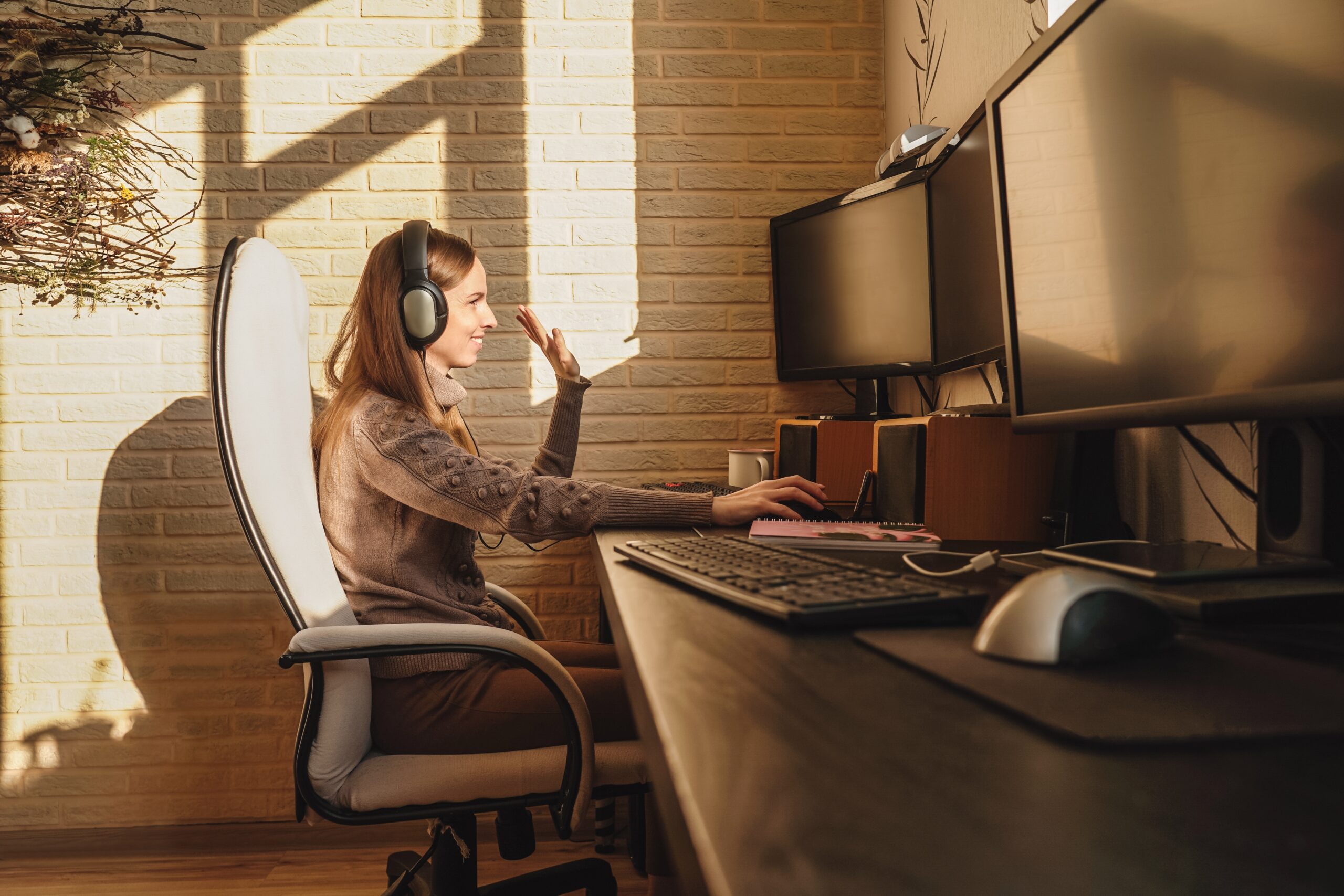 Although the year is still quite young, you might be feeling that your organization is already behind the curve. "Should we instate a permanent work-from-home policy?" "How will we manage a remote-first or hybrid workforce?" "What will the future of the workplace even look like in 6 months, 12 months, or two years?" If these are the questions you and your fellow C-suite leaders are losing sleep over, you're in good company. While some business leaders have put a stake in the ground regarding the future of their operating models, most organizations are still figuring it out.
With 40% of U.S. employees now clocking in from home, employers must reimagine how and where work will get done once the threat of COVID-19 recedes. Spoiler alert: This is no easy task. It's also important to note that not every company is at the same stage of the decision-making process on this—some businesses were already working toward a more remote-friendly environment and the pandemic was a timely catalyst that accelerated their plans. For others, the pandemic was the impetus for even considering remote work alternatives.
What's right for your business and workforce will make little sense for another. Predicting the future without a crystal ball may not be your specialty, but whatever decision you make should ultimately be based on careful consideration of how employees and teams will need to work together in the years ahead. Your view on this may well have evolved based on observations of pandemic working arrangements, and this is a good thing.
Wherever you are in the process, know that there is light at the end of the tunnel, and a structured way to arrive at a sound decision. We've helped many clients work through these kinds of decisions with a process we call R3 ("R cubed"), which allows organizations to take stock of what's working and what isn't (reevaluate), define their vision and use it to develop a go-forward strategy (reimagine), and harness change to come back stronger (reemerge).
Engaging a remote or hybrid plan is more than a straightforward personnel or technology issue: It's an enterprise-wide transformation effort that cascades across multiple business units—and executing it properly calls for input and coordination among these business units, leadership, and HR. This reality is exactly what makes the strategy and execution of this change important and difficult.
Once you're poised to take the next step, you've got to look before you leap, because making a beeline from a new strategy straight to execution with an old operating model will get you in trouble. It's why we counsel our clients about "minding the gap." The "gap" is the space that exists between great strategy and rock-solid execution. To ensure your chosen strategy is successful, you'll need to assess your existing operating model—including your organizational design, governance, ways of working, culture, and capabilities—to identify which aspects may need rewiring. Figuring out where to start can be tricky, so we did some of the leg work for you. By answering the following questions, you'll gain a deeper sense of where your organization stands and what direction it should take.
How well is your organization structured to support a work-from-home model?
Does the organizational hierarchy and corresponding reporting structure still make sense if current work-from-home arrangements are maintained or expanded? Some business units may be better prepared than others, and it's important to consider each unit's specific circumstances. Company-wide, how has leadership alignment been tested by remote working during COVID, and what organizational design changes might you need to consider as a result? If you are shifting to an all-remote or hybrid strategy, you may also need to adapt roles and responsibilities. Some leaders struggle more than others with having dispersed teams. Reorganization can be an important value-creator, allowing you to consolidate some operations and optimize your team structure.
There are also logistical issues to consider. Let's say your organization is located in two primary hubs, with one on the West Coast and one on the East. Assuming most of your employees are based in these locations, you'll need to assess your policies around allowing more geographically dispersed remote roles in the long term. Keep in mind that fairness is a big factor here—it may be necessary for some employees to remain on-site, while others can do their jobs more easily from home. Maybe you took your sales reps out of the field early on; will they go back to business as usual or does it make more sense to shift toward virtual sales? Striking the right balance and being sensitive to different employees' needs while balancing the needs of the business all play a role in any decisions regarding organizational design.
Are ownership and accountability measures in place?
If no one's tracking your efforts, did they even happen? Before you can dole out ownership of any new policies, you'll need to figure out who is doing what to set the stage for success in the first place. This means focusing on accountability as new protocols are being implemented as well as after these changes take place.
Altering your operating model to accommodate more remote working requires in-the-trenches participation from a range of stakeholders beyond the HR team, including business unit and functional leads, senior managers, team leads, and IT. As with any complex undertaking, you'll need to assign roles, establish project milestones and metrics, and secure buy-in from each key group. But governance doesn't end there—you'll also want to establish ownership of ongoing efforts once your new model is up and running.
Does your organization have the right tools and technologies to encourage virtual collaboration and promote productivity?
Before COVID-19 even hit, almost 90% of companies acknowledged their operating models would need to change to accommodate digitization. The time to reevaluate those efforts is now. In a remote-first world, access to Zoom, Microsoft Teams, or Webex is a no-brainer, but you'll also need to consider what other tools, technologies, and skills your teams require to be successful in the long term. Communication tools aside, reporting and project management platforms can help employees stay on track while also keeping leaders informed of their progress. Data and analytics go a long way in measuring the disconnect between efficient and inefficient transformations through their direct impact on business performance and outcomes.
As you reevaluate your digital capabilities, don't just focus on the tech—your teams will only succeed if they have a collaborative mindset and the behaviors to back it up. In short, a willingness to adopt new tools and adapt to change readily are as important, if not more so, than the technologies themselves.
How will a remote-work strategy affect my organization's culture?
As you may know from personal experience, senior leadership often struggles the most when it comes to embracing new ways of working. There's been a lot of hand-wringing over what effect remote work will have on company culture, but there are ways to maintain—and even strengthen—your culture as long as it remains an active priority within your organization. One way to accomplish this is to focus on reinforcing relationships through companionship, conflict management, and communication. Remaining in sync not just with your immediate team but with others in the organization can help head off potential pitfalls associated with remote work, including issues around gender inequity in the virtual workplace.
Regardless of your industry or company size, effective leadership looks different in a remote environment. Most leaders shifted their approach—at least to some degree—over the course of 2020 and learned from the experience. But if a more permanent remote model is put into practice, most leaders will need to make major and lasting adjustments to their approaches. They will need to evolve their skills and capabilities, and this will ultimately have a big impact on culture.
In general, companies with resilient cultures already in place are better positioned to make the transition to a remote or hybrid model. The reverse is also true: If your culture is weak, remote working can further erode it. Unsure of the state of your company culture? We have tools that can help quantify it for you.
Are processes that support a remote or hybrid model clear, well-documented, and current?
Unless remote work is the norm for your company, you'll likely need to refine processes or create them from scratch. Expanding your remote capabilities inevitably adds a layer of complexity to your already complex operating model, and as new policies unfold they'll need to be documented and arranged accordingly. Incorporating a new project management tool? Be sure to design a process workflow that employees can reference as they get acquainted with it. These tools are living documents that will need to evolve over time to meet the changing needs of your teams.
Whether your business is considering going fully remote, or you're one of the many companies considering expanding flexible work arrangements, the new normal is here to stay. Navigate has been helping large organizations move from managing "for now" to reimagining and preparing for a future that makes the most of new dynamics and endless possibilities. As we've outlined here, there is a lot to consider. Regardless of where you are in reimagining the future of your workplace, we're here and ready to help!