Challenging the Status Quo: Q&A with Former Genentech Leader—and Navigate Advisor—Marc Watrous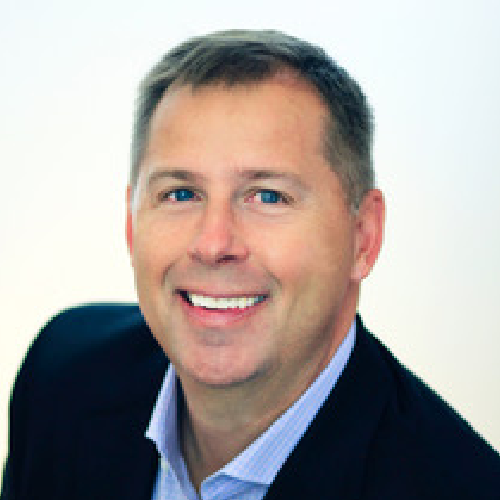 For better or worse, the past 12 months have been transformative in many ways: Our workplaces, home environments, rituals, and routines took a 180° turn in the blink of an eye. Adjusting to this new reality hasn't been easy, but it's certainly taught us some valuable lessons along the way. The most important lesson of all? That change can be uncomfortable, but also freeing.
Freshly-minted strategic advisor and former Navigate client, Marc Watrous, is no stranger to the transformational change game. He recently closed the book on 20+ years as a leader at Genentech and transitioned to executive management consulting, and we sat down with him to get his thoughts on coping with—and leading through—change, his approach to goal-setting (or goal-forgetting), and how leaders can ensure that major shifts in strategy result in significant and sustained improvements in business performance.
You made a pretty big leap from your leadership role at Genentech to focus on executive consulting. What drove you to make this change, and more specifically, what drew you to work with Navigate?
I spent the bulk of my career—23 years—at a very large company. When I left that behind, I decided I wanted to do something different. Working with a nimble, growing firm like Navigate is exciting for me. After cultivating relationships with Navigate's leaders over the years, it became clear that the firm's authentic, down-to-earth approach was a good fit for me. They get that there needs to be a human connection between consultants and their clients. The business areas that Navigate focuses on also appealed to me—like their experience with helping companies transform their operating models and deal with gnarly issues like merger integration. M&A work, in particular, doesn't always go well if the right partners aren't in place.
Another thing that drew me in was Navigate's work in the life sciences space. I started out as a pharmacist and devoted my career to healthcare. Working with a firm that is a part of the effort to improve  healthcare for people all over the world is important to me.
What are your goals as you enter this new phase in your career?
Overall, I'd like to help Navigate continue on its strong growth trajectory and support the firm's clients' growth, as well. Over the course of my career, I've moved away from rigid goal-setting—now I think more about where I can add value and spend my time pursuing those opportunities. My objective is to make sure Navigate is setting the right goals and achieving them.
Speaking of change, you mentioned that you used to be a change management skeptic. How has your opinion on the subject evolved over time?
My initial impression was that change management was code for downsizing, or for tackling the undesirable aspects of business that you dreaded most. It seemed, for lack of a better word, too "squishy" to be truly meaningful. But then I helped lead what was probably one of the largest commercial transformations in the industry, and I came to appreciate what was holding me and the leadership team back; there were elements of fear, mistrust, and territorialism that we needed to overcome.
The change management process was uncomfortable but also freeing. As a result, we came out on the other side with an increased level of creativity, selflessness, and better long-term thinking. It allowed us to genuinely view the business through the lens of what's best for customers and for our people. If we could work toward elevating those experiences, we'd ultimately have a more sustainable business.
When it comes to implementing a major transformation or change initiative, why do you think so many organizations struggle to successfully execute?
Some leaders tend to think they're only there for the strategy, then they turn implementation over to someone else. After spending lots of time on what they find to be the appealing part of the equation—strategy—they assume implementation will just happen. There's the old 80/20 rule, which dictates that 80% of your time should be spent on strategy and the other 20% on implementation. I find the opposite to be true, and to be successful, we've got to flip that notion around because implementing initiatives takes a lot of time, skill, and work. There are plenty of organizations that do strategy well, but there's a huge gap in the marketplace when it comes to implementation, and that's really where the hard work is. As a former Navigate client, I can tell you this is precisely where I've seen Navigate excel.
 If change is going to stick, you've got to stick with it, to commit to it. Too many leaders want to move on to other things too quickly. In some cases, implementation gets delegated to the "B team" while the A players tackle strategy. This is a mistake—your leaders need to be engaged throughout the entire process in order for it to be successful.
What advice would you give to leaders going through a major transformation?
Always challenge the status quo—organizational gravity is a really powerful force, and it can pull people back to "business as usual." You have to be bold, and to get comfortable with being uncomfortable. Ambiguity can be tough, but real transformation takes a shape of its own. As you progress down the path of transformation, it's like an onion: You peel back the layers and find things worth pursuing as well as other elements you don't want to pursue. It's important to remain flexible throughout this process and stay tenacious, because it will get hard, you will make mistakes, but you'll constantly be learning.
In short, avoid the pursuit of perfection. Many folks will sit for weeks or months trying to design a flawless transformation plan, but they end up wasting a lot of precious time. The best remedy for that is experimentation; start to experiment early on in the process, because the sooner you put things into action, the sooner you will learn valuable lessons.
If you're not careful in how you approach experimentation, we all know it can put people on unsteady ground. How do you experiment without creating inconsistency and disruption that hinders people from doing their jobs efficiently?
You have to empower those folks, because in many cases, the people closest to the work and closest to the customer already know what to do. Trust, empower, and give them the space and time they need to take action. Leaders will often ask their teams to take on this work, which more often than not falls outside of their day-to-day responsibilities, in their spare time. But what you really need is a group of people fully dedicated to the cause; make this their "day job"—for 60 days, nine months, or whatever timeline makes sense—and say, "this is your primary focus."
It's about creating a bias for action. You have to allow your employees to feel comfortable, because all experimentation is about learning. In the world of life sciences, especially drug development and clinical trials, we fail more often than we succeed. Good experiments add to the overall knowledge base, and that knowledge can then be applied to the next set of experiments. Some use the phrase "fail fast," but what you really want is to learn fast—and apply those learnings even faster. When you use the word failure, people become fearful about the consequences. Leaders should give their teams the space to make mistakes because then they will feel encouraged to challenge the status quo, push themselves beyond the pull of organizational gravity, and go places without fear. That's when you will really see breakthroughs and creativity flourish.
What trends do you see—in healthcare, consulting, or business in general—that you find particularly exciting?
A major trend of the last year has been the challenge of striking a balance between remote work and working together. Some of the best breakthroughs I've ever had came when my colleagues and I locked ourselves in a conference room for a day to brainstorm and bounce ideas off of each other. That's hard to replicate in a remote setting.
We're reaching a tipping point in that digital engagement is going to take over in many ways. We see it in the rise of telehealth, and we're seeing it play out in the pharma industry: People are moving away from personal promotion to digital promotion. These things can be scary but they're also exciting.
Another thing I've found fascinating is how within the span of 12 months, pharma has gone from having one of the worst industry reputations to being near the top of the list. This speaks to how quickly things can change in our current environment as the pace of change continues to accelerate. To keep up, businesses have to be nimble, agile, and willing to move. As Wayne Gretzky once said, "Skate to where the puck is going to be, not where it has been." More companies need to adopt this mindset because the puck is moving faster.